Without having looked into the question myself, I thought that the correlation between the risk of extreme weather/hurricanes with increased temperatures was an uncontroversial finding because of media reporting. I was therefore intrigued by the recent
post
on Dr Junigs blog suggesting that hurricanes do not increase with increased temperatures. However, I also thought the data lacked an important part as it did not include temperatures. After all, the theory is that extreme weather increases with increasing temperatures, not necessarily over time. While there is a trend of increasing global temperatures over the last century, there is variability between individual years, and by not considering temperature data, trends migh be difficult to discern from noise. Also there were comparably few hurricanes included, and reported per decade, potentially affecting the precision.
I decided to have a go at this myself and though I should share my findings. I do realize that more competent analyses of this are most certainly published, but what is the fun in that? (And the blog post expressed an annoyance towards experts anyhow...).
I found a somewhat longer time series (until 2014) of Atlantic hurricanes here:
https://www.nhc.noaa.gov/climo/images/A ... Table.pdf
This included more hurricanes, I guess since it included all hurricanes in the region, not only those affecting the US mainland.
Temperature data from the same region was found here:
https://www.ncei.noaa.gov/access/monito ... 1965-2014
I decided to go back 50 years, i.e. from 1965-2014, (keeping it to decently modern times, assuming that data quality might be somewhat compromised for older data). I further decided to look at major hurricanes only.
Findings: There was a clear trend in increasing temperature over the time period in this region: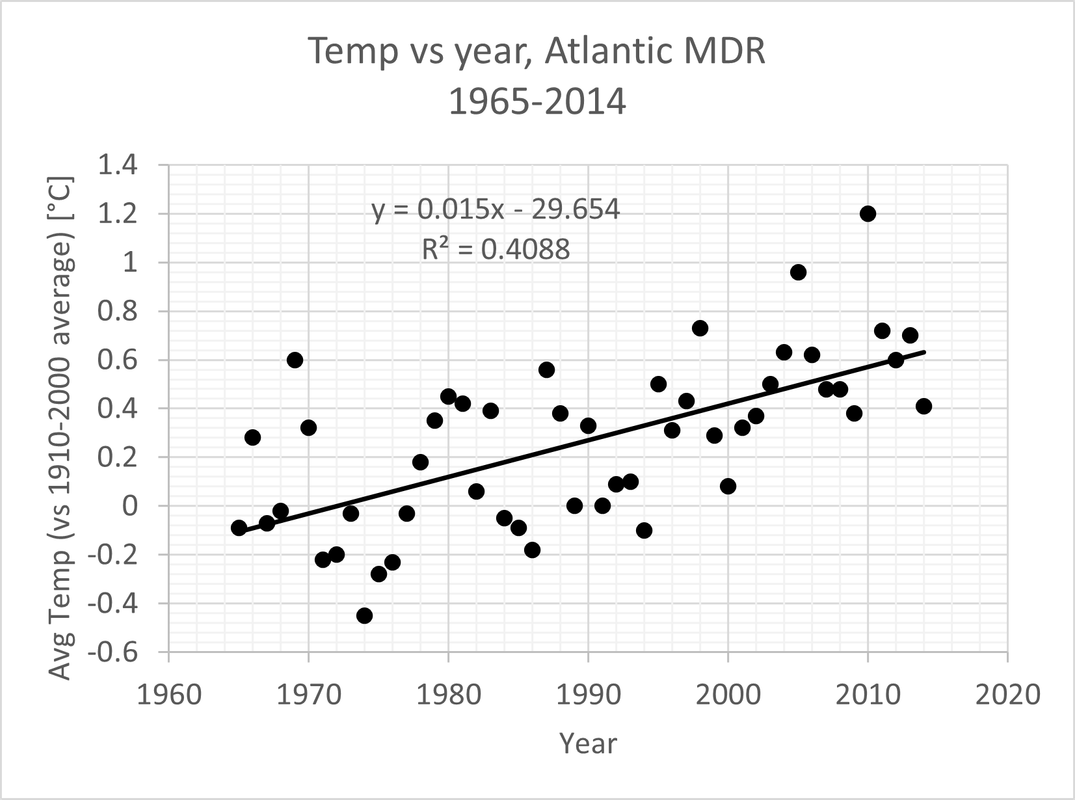 There was even a weak trend for increased number of yearly major hurricanes over time in this dataset (with an apparent increase in hurricanes starting in about 1995):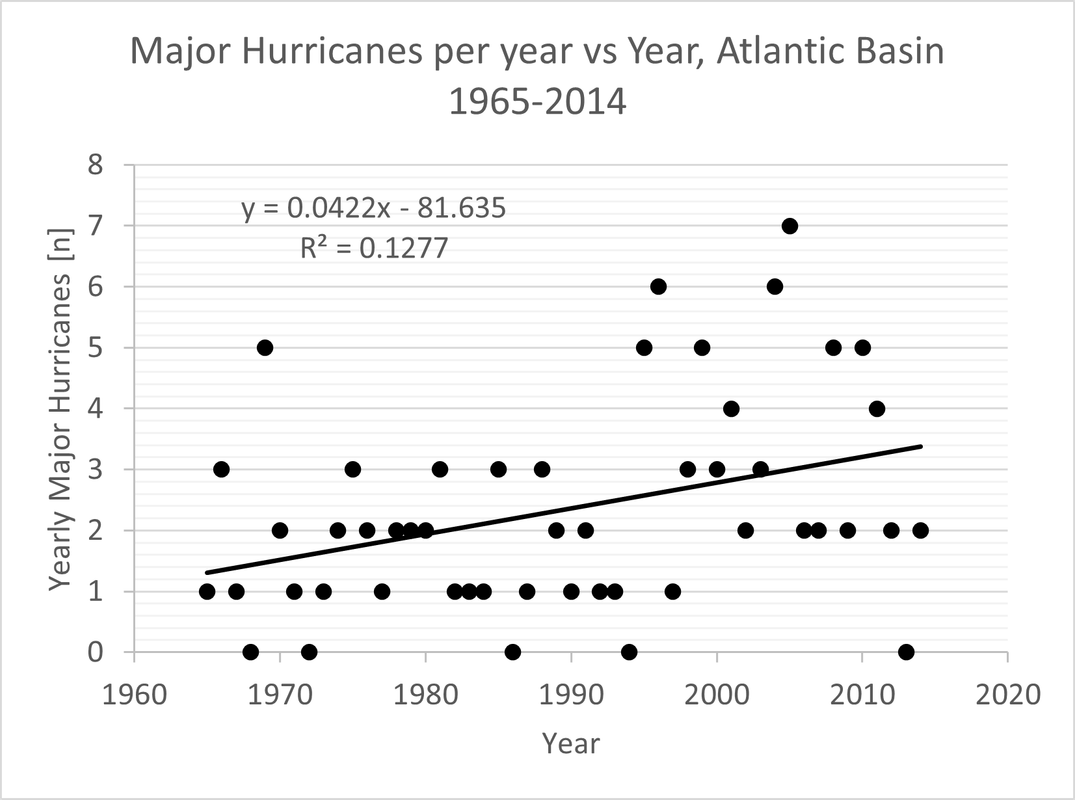 Finally, plotting of yearly hurricanes vs temp resulted in a better correlation: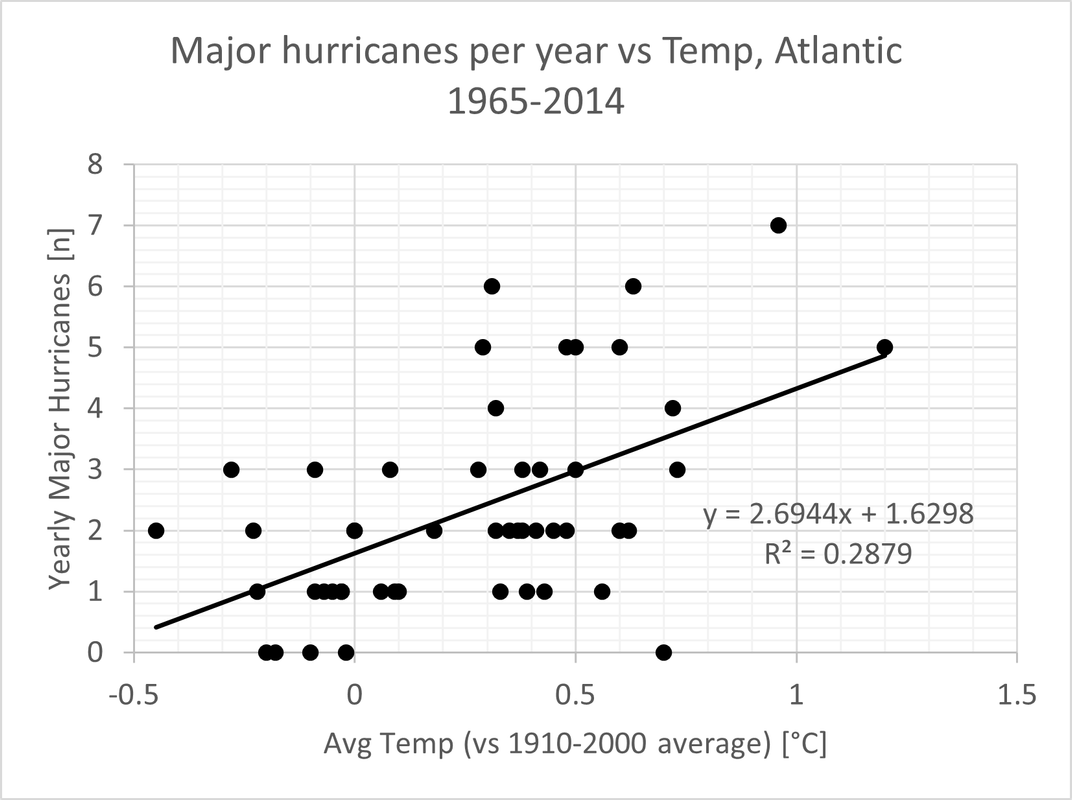 In conclusion, contrary to Dr Junig´s notion, these data would support there is a positive correlation between average temperatures and number of major hurricanes/year. Thus, I think that an increased risk of major hurricanes with climate change appears to be a reasonable assumption.
(Regarding the other notion in the blog post on naloxone effects in Suboxone, I have also read the literature and concur with Dr Junig´s analysis abuse deterrent effects are commonly overstated.)